By Carol Wheaton
December 10 Play:  8:45 am Shotgun / Courses:  Palmetto/Plantation / General Meeting/Luncheon  / Game:   2 BB – All Flights
This Tuesday we will enjoy our last luncheon play day of the year, and then we will kick off our celebration of the 40th Birthday of the LWGA!     It is hoped that many, many LWGA members will be in the field, whether new to our group or a time-honored member.  We will be playing on both the Plantation and Palmetto courses.  The Fitness staff will be available on the range to help us warm up for the morning's golf. A gala luncheon event will follow in the Plantation ballroom.  Lunch cancellations must be made no later than 4 pm, Friday, December 6, to Beth Frohn at 598-2623 or bessiemay5@aol.com, or you will be charged.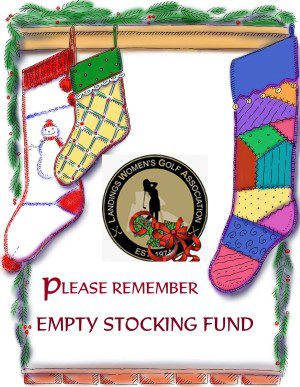 Please remember to bring your donation for the Empty Stocking Fund to the luncheon.  If you wish to "Buy a Drive" on the golf course from our long-hitting Pros, you will be able to charge this donation to your Club account.  The total Empty Stocking donation will be given to the Fund on behalf of LWGA.
Diane Gannon will be collecting her last batch of peanut butter for the year, and would greatly appreciate your generosity.  She will be collecting your donations on the porch when you check in for your golf.  Second Harvest would appreciate as much peanut butter as possible.  Make a note on your calendar so you'll remember to purchase a jar or two.  Diane thanks you, and we thank Diane for the time and effort she spends for this good cause.
 The smooth operation that we call LWGA runs beautifully with the help of many, many volunteers.  If you'd like to get involved in any way, please speak with any committee member.  She will be sure to pass your interest on to the correct person.  If you are interested in learning how to be a Hostess, for instance, you will be teamed with a veteran Hostess so you can learn "the ropes."  The Hostess Chair will make sure you are comfortable in your new
endeavor.  Volunteer sign-up sheets will again be available Tuesday on each luncheon table listing the many opportunities available.   The 2013 Committee Members are listed in you current Membership Book.  You will be receiving the new 2014 Membership Book after the first of the year.  This information is also printed in our lwga.net website.  I can promise you will enjoy being involved in our wonderful women's golf association.